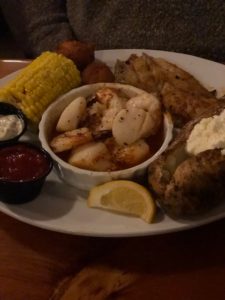 There are certain restaurants that you come to associate with different places of travel. There are just ones that you know for certain you will be eating at when you go on your winter or summer vacation. For Pigeon Forge one of those destinations would be somewhere like the Old Mill or The Apple Barn. When new restaurants move in, it's always a hard decision to make to take the chance to eat somewhere new, especially if its a restaurant you associate with a different location. Often times it can give you the feeling that the ambiance will be off for your particular surrounding. Such was the case when Harpoon Harry's came to Pigeon Forge. Boy, oh Boy, was that assumption so wrong!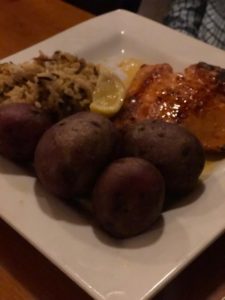 When people think of Harpoon Harry's,they think more of a beach atmosphere. Whenever one opened in Pigeon Forge, it was strange to think of dining in that type of environment here. However, the owners of the Pigeon Forge Harpoon Harry's did an excellent job making sure that the atmosphere inside matched that of the surrounding mountains. Beautiful wood carvings and fire places are focal points within this location. It has a very hip and trendy feeling to it, while still keeping it cozy and inviting. This restaurant definitely can appeal to all ages.
This location is two stories and has plenty of sitting. However, many travel goers have started to discover this location and during busier times of year there will still be a wait. They do take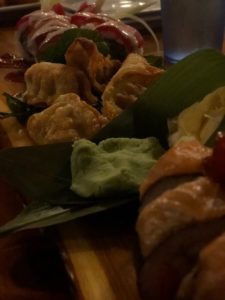 reservations if you call more than a day in advance. They do not take same day reservations, so get there early. It is definitely worth the wait if you happen to get there later in the evening. Leaving this location because of wait time would for sure cause you to miss out.
From your wait to your seat the views and atmosphere are amazing. If you do have to wait there is some super comfortable seating surrounding a cozy, roaring fireplace or take a seat at one of the three bars. The tables located in the back of the restaurant are in an open air environment when the weather is permitting. However, when the weather isn't great the doors are rolled down to reveal all glass pane garage doors, which still let you feel as though you are sitting outside. You have an excellent view of the parkway and a quaint creek running along the left side of the restaurant.
The food is absolutely amazing. Both appetizers and entrees are wonderful and the selection is superb.There are 4 to 5 pages of food selections. This is where you get what you expect from Harpoon Harry's, as far as food goes. The offerings are very much focused on sea food and the like. There are other options, but the majority is seafood. The fried shrimp is amazing. The batter is light and not greasy at all.  The shrimp are ginormous. This is a top recommendation.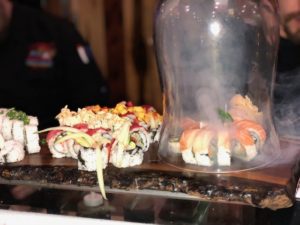 They have a full service Sushi bar, which is immaculate. Of course it has all your favorite traditional sushi to choose from, but if you just can't decide, for starting at just $25 the sushi chef will make you a custom chef's choice sushi platter depending on your likes, dislikes, and budget. Whether you are a novice or a sushi connoisseur you will positively enjoy this experience.

Harpoon Harry's is equipped with three bars and a wine cellar. Two of the bars and wine cellar are on the first floor and there is also a bar located on the second floor. The bar tenders are super friendly and inviting. They are not your average overworked or unfriendly type. They, as well as all the other employees there, seem to enjoy their jobs and want you to enjoy yourself as well.

One thing is for sure, that your whole family will find something that they love at this "out of place" location. It definitely will make you re-think not trying new places in the future. From the atmosphere to the food, Harpoon Harry's is a must try. So book your vacation today, and make sure to ask the front desk at check in for directions from your cabin to Harpoon Harry's!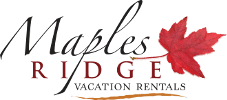 Check out more info on Harpoon Harry's at http://harpoonharryscrabhouse.com/
Get to know the blogger: http://www.thatbabblingbrooke.blogspot.com