New Things are Coming

New things are coming in 2019! The Smoky Mountains of Pigeon Forge and Gatlinburg, Tennessee have long been a traditional family vacation destination. Because of that, there are many staple places that people come to visit each year. Some of those being, Dollywood, Dixie Stampede, the Comedy Barn, and the Old Mill. While those places remain, there is no denying that the area is ever changing. Adults who once came here with their families as children, are now bringing their own families here, and they have come to find and create new places to share their memories. 2019 will be a year of change in the Smokies, and looking even further in 2020 there may be more. Pigeon Forge and Gatlinburg will indeed stay the same cozy mountain towns they are known for, but the street views of the restaurants, and the shows, may over time change. We will take a look at some of the new and exciting changes coming to town in 2019.
Pirates?
In this first installment we are going to talk about shows. What's new, when is it coming, and what can you expect?  We are going to cover it here. First on the agenda is Dolly Parton's new Pirate Show. The show building in front of the Island will once again transition in 2019. It began as many remember, Lumber Jack Feud. Dolly Parton then bought that building and made it Dolly Parton's, Lumber Jack Feud. She then changed it to a family vs family dinner show called Smoky Mountain Adventures. Again this past Christmas she made the show into a seasonal "Celebrations" show. In spring 2019 it will take a completely different direction. Her Pirates Voyage that most know in Myrtle Beach will now come to Pigeon Forge. There was some confusion and rumors going around that this dinner show was expected to open within the Smoky Mountain Opry building. However, that was going to be a completely different Pirate show all together.
What about the other one?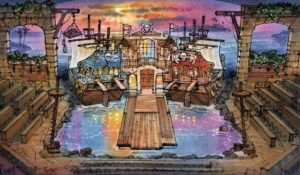 To catch you up to speed, here is the scoop. Fee/Hendrick, the company that owns (owned) Hatfield and McCoys, the Smoky Mountain Opry, and the Comedy Barn, were going to open their own Pirate show in the Smoky Mountain Opry building. However, within the last month, WCI, whichs owns the Dolly Parton shows, has acquired all three of those entertainment venues. So, as of now there will only be one Pirate show coming to Pigeon Forge.
As of now this means that in 2019 those three shows, to my knowledge at this point, will

remain the same. However, what the future holds for those venues remains a mystery. I would fully believe that the Comedy Barn may have some slight tweaks, maybe renovations, but will for the most part stay the same. It is one of the oldest and longest running shows in the area. There is no need to change a show that is still bringing in audiences every night. Hatfield and McCoys? No way to be sure. There is no denying that this is the first show that has come to town to give Stampede some competition. We've done some polls and Stampede still ranks at the top for the show people will re-visit, while H&M seems to be a one time visit for a lot of people. This is not because it's not a good show. H & M's just happens to be a show that does not change much. While Stampede on the other hand is the "same show" each time, but new things can occur with the animals or the stunts.
New-ish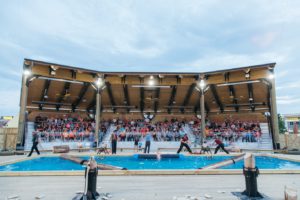 One more show to mention isn't necessarily new in 2019, but it will be it's first full running year is. Paula Deen's Lumberjack Feud. While it came to town in Summer 2018, it has not had a full running year. It was set to open the beginning of 2018, however construction took far longer than the original opening date. PD's Lumber Jack Feud is different from the other shows in town in many ways. It is an open air arena type show. It is located in front of the Smoky Mountain Brewery right before light #3. There are activities for the kids inside, including a zip line. It is a show plus an interactive play area. Also something to note, it is not a dinner show. There will be a full review on the show and the area surrounding it to come.
No matter what shows come and go, new traditions and memories will be made here, and the Smoky Mountains will continue to be the perfect family vacation destination. So go ahead and book your 2019 visits. Come and see your classic favorites and be the first ones to experience all the new and exciting things happening in 2019! Keep a look out for the next installment, so that you do not miss the new restaurants, and venues to come.
Book Here:  https://www.maplesridge.com/properties/
See Previous Blog Post Here:  https://www.maplesridge.com/blog/let-it-snow/