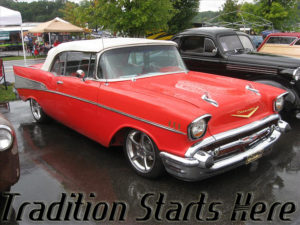 When asked to describe the Smoky Mountains of Tennessee, you might say beautiful, serene, or relaxing. All of those would be true. However, one less common word used, but one that reigns just as true as the rest is, tradition. You can see it all around you here. From the old mines, to Dollywood, to the cabins nested in the mountains visited by families year after year, and to the families who run the establishments that have been pasts down for generations. The Smoky Mountains are seeping with tradition.
Carrying on with tradition, the Smoky Mountains of Pigeon Forge and Gatlinburg hold many events every year that have become a tradition to families from all over the states. Two in particular are held every fall. For many families the beginning of September means not only the beginning of the beautiful autumn season, but signifies a yearly family vacation to the Great Smoky Mountains. The two weekends after Labor Day are when two of the biggest vintage car shows are held. Shades of the Past Car Show and the Fall Grand Rod Run have been a staple here since 1983.
The Shades of the Past Car Show is always the weekend after Labor Day. This year it will be held September 8-9. The actual car show itself is held at Dollywood Splash County. It features cars that were manufactured before 1972. Here you will find everything from hot rods, custom builds, re-builds, and personal favorite classics, such as the 1957 Chevy. This car show brings out hobbyist, enthusiast, fanatics, and even just admirers of classic cars. Even if you have never really been into cars, this is a sight to see. Nowhere else will you be able to see so many beautiful classic cars in such pristine conditions. Many of them will even make you feel like you are back in the 50's and just watched a shiny red hot rod with smooth white leather interior being pulled of the showroom floor.
The Grand Rod Run is held the weekend after Shades of the Past. This year that means it will be held September 14-16. The Rod Run will be held at the LeConte Center. The Grand Rod Run is exactly what it sounds like; a showcase of some of the top Hot Rods you will ever lay your eyes on. From Chevy to Ford and everything in between, you will be sure to see the brightest and most exemplary Hot Rods of anywhere around. This event just as Shades of the Past is an event for all ages and all levels of car enthusiast. This is most definitely not an event you want to miss!
One thing is for sure; you can't go wrong at either of these events. They both showcase all the hardwork and love these car owners put into their vehicles. Never before have you seen such shiny exterior and engines roaring like the first time they've been driven. Nowhere else can such a collection of cars be seen. Everything from classics that have been taken care of from the day they were driven off the lot, to Hot Rods that have been rebuilt after they have rusted in an old barn for ages, and everything in between. One thing is for sure, there is a lot of pride taken in the beauty of these vehicles, and rightfully so. Even if you don't visit the car show itself these cars can be seen all up and down the Pigeon Forge strip for the entire weekend. Stop by and chat with the owners. They will be delighted to tell you the history of their "baby". No matter what level of interest you have in classical cars, these events will not disappoint.
So whether you are planning to continue your family tradition this year or starting a new one by coming to the car shows, Maples Ridge has the perfect accommodations for a stay in the Smokies. You will not only get to see the beautiful Classic Cars, but will also get to experience the immaculate views of our beautiful Smoky Mountains. Call us today for traditions that last a lifetime.