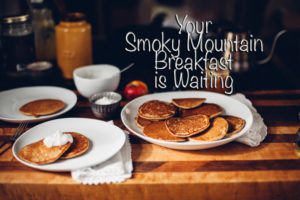 One might say that breakfast is the most important meal of the day. Well here in the Smoky Mountains you can find some of the most delectable breakfast selections of any other vacation destination. Down-home southern cooking reigns supreme around these parts. You'll feel like your back at grandmas house on an early Saturday morning. Smells of fresh biscuits and maples syrup fill the air. There is no doubt that you will be served a delicious mouth full anywhere you choose to have breakfast here, however there are a few places that are a step above the rest.
The Old Mill
The Old Mill is a staple destination for visitors as well as locals. Located on the far end of the Pigeon Forge strip, the Old Mill is a picturesque dining experience that feels as though it could be taken right out of an old time western film. Located right beside the little Pigeon River, the mill still spins as you dine inside, served by staff from all over the globe. On their menu you will find everything from biscuits and gravy, pancakes, and bacon, to fruit platters for those who might be looking for something on the healthier side. One thing is for sure, no matter what you choose you'll be "full as a tick", as we like to say here in the south. Once you've eaten to your hearts content, they have a general store located right next door where some of those favorite breakfast staples can be purchased in raw form for you to take home and make for your whole family to enjoy!
The Pancake Pantry
The Pancake Pantry is seated right in the middle of the Gatlinburg strip. At any given time you will see a line waiting OUTSIDE of this wonderful establishment. Don't worry though, we promise that it is worth the wait. The line also moves rather quickly. Once inside you will see the waitresses in old-time dresses and  old order boards that light up to indicate which order is up. On to the good stuff though……the menu! No where else will you find the selection of absolutely delicious pancakes. For all the pancakes lovers out there or even if you only slightly enjoy pancakes, you will not want to venture anywhere else in the Smokies to get your pancake fix. These fluffy morsels are like clouds of heavenly delight. And don't worry because they have every side and dish companion that you could ever hope for! One small tip, don't forget your cash. This is the only form of payment accepted at the Pancake Pantry.
Mel's Diner
Last but not least, Mel's Diner. Tucked in a little corner right off Wears Valley Road, you will find the cutest little diner that looks like it came right out of the movie Grease. It'll have you wanting to drive a 1957 Chevy cruising down the parkway. This quaint little place is most definitely a crowd favorite during our annual car shows* every fall and spring. Mel's features all your favorites, diner style. Country ham, bacon, fried bologna, and country fried steak are some of the fan favorites meat options. From there you can accompany that with an omelet, grits, biscuits and gravy, french toast, or a short stack of pancakes. The best part of Mel's Diner, one might ask? It's conveniently located on your way to Maples Ridge Cabins.
It can truly be said that the Smoky Mountains of Pigeon Forge and Gatlinburg hold some of the most exquisite breakfast locations in all of the country. No matter what you are in search of, you will find it here. Need more places to chose from? No problem. Our friendly staff will be more that happy to point you in the right direction. Whether it's breakfast, lunch, or dinner we can help make suggestions for a family of 5 or a quite romantic diner for two. Come on out! The Smokies are calling and your breakfast is waiting!
*Be on the lookout for blog posts with information on the upcoming car show events.