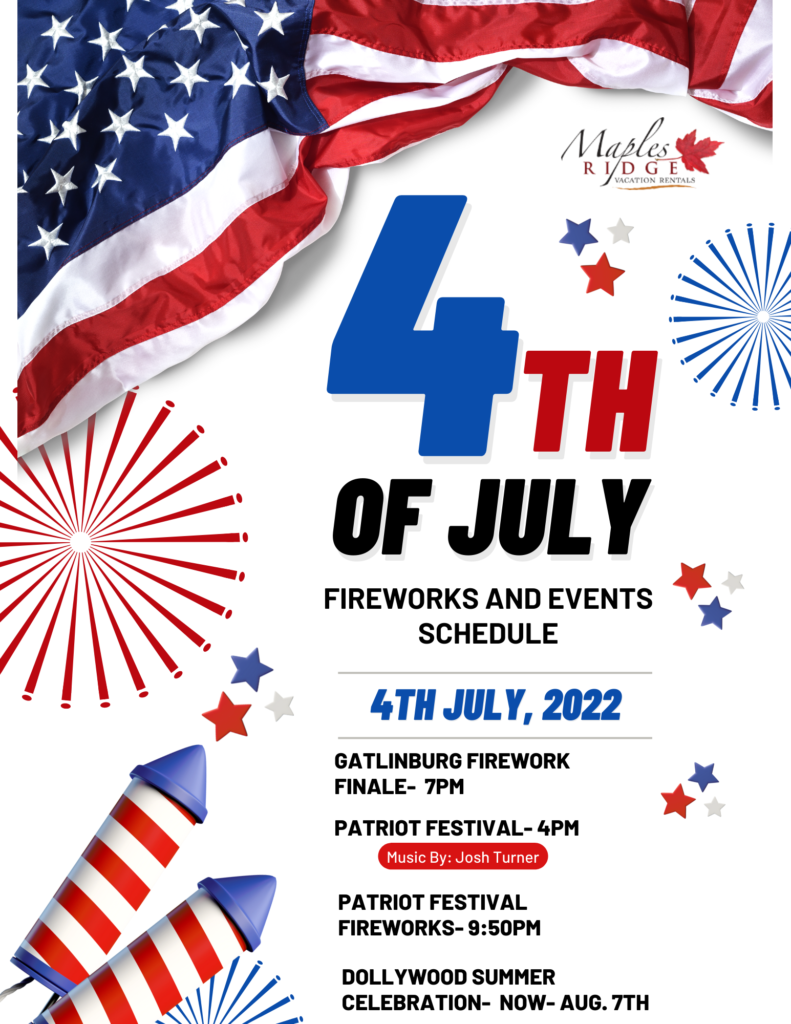 The Fourth of July is always such a huge celebration, and rightly so! A wonderful way to celebrate America's independence is by gathering together with family and friends. Specifically gathering together in the Smoky Mountains. People celebrate differently all over the nation, but one of the most traditional ways is with fireworks! While we won't disagree there, there are a few tips you need to know when celebrating the 4th of July here in the Great Smoky Mountains!
Make sure to never shoot off fireworks near or around your cabin. Here at Maples Ridge we ask that you not only refrain from shooting them around your cabin, but that you refrain from shooting them within the neighborhood your cabin rental is located in. Here are a few of the many reasons why. 
Fireworks can be a danger not only to yourself, but to those around you.
Fireworks are a concern for starting wildfires.
Fireworks pose a concern to the wildlife in the area.
Shooting fireworks can lead to cancellation of the remainder of your trip.  
Depending on where your cabin is located, you could face charges and fines.
The best and safest thing to do is leave it to the professionals. That's why we have compiled a list of the festivities in the area.
On July 4th there will be a night long celebration at Patriot Park beginning at 4pm. Before the fireworks there will be live music held. This will include a LIVE performance by country music superstar, singer of "Long Black Train", "Your Man" , and many others, JOSH TURNER. He will perform at 8pm. Fireworks are set to begin around 9:50pm, weather permitting.
Gatlinburg will also hold a Firework Finale show at 11pm.  Get to town early, because it will be a packed house. One of the absolute best places to view this fireworks show is up at the Gatlinburg SkyBridge. You still have time to get tickets at gatlinburgskylift.com .
If you won't be here on the actual date of the 4th, you can celebrate all summer long at Dollywood's Summer Celebration! From now until August 7th you can view fireworks and a drone light show, nightly. This is included in admission to the park.
No matter what your holiday plans are, please be safe and have a great time while you're visiting! Relax and enjoy the beautiful Smoky Mountains. And, again we ask that you help us keep the Smokies beautiful by letting the professionals handle the firework displays this holiday season!